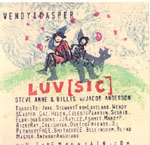 luv(sic): Wendy & Casper CD-R $2
The greatest album of 2002? Already? Yes!!!! Luv(sic)'s econo supergenius-pop sounds like nothing else you'll ever hear but will still make you jump around like crazy. You'll be singing these songs while walking to the bus stop, washing dishes, cleaning your bathroom, writing novels, everything.
Fancy packaging, too--block-printed, rubber-stamped, letter-pressed. Wow!
Celesteville/luv[sic]: Sing Like Birds CD-R $2
This one has "hit" written all over it. Bellevue, WA-based luv[sic] kick up their trademark thickety supergenius ruckus behind Portland, OR-based Celesteville's left-field songs and guitar ruination, and the results go down smooth. The somewhere-between-4-track-and-digital production values are nice as well. Twelve songs that you will remember and cherish for only $2!
And if that weren't enough, the packaging (designed by Billis of luv[sic]) looks great as well. Includes lyric sheet so you can look up all the words.