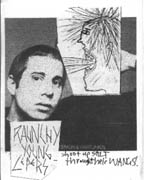 Raunchy Young Lepers: Simon & Garfunkel Shoot Up Salt Through Their Wangs 12-CD-R box set $20

Please note: This item is currently in stock, but you must first demonstrate that you have heard the Raunchy Young Lepers, either via a friend or via the now-available Virgin Sleaze Propaganda greatest-hits collection. As much as we appreciate getting $20 payments in the mail, it is a major pain in the ass. Email me for information on ordering.
Every note ever recorded by Tualatin, Oregon's greatest contribution to Culture--casual fans might want to hold out for the best-of album (coming soon) but for those of you who are already sold on Leper Music, this is a must-have. Special packaging, song-by-song explanations so you'll finally get the inside jokes, and over a mile's worth of magnetic-tape expenditure in total. A boon for Cultural Studies types, invalids, perverts, Communists, homophobes, radical feminists, record collectors, drafting teachers, etc. etc. Dreadful and endless, truly hopeless. You'll relish every moment.

RYL: Sex & Heredity 1997 CD-R $2
12/29/97 "reunion" album from the entity called "RYL". This sounds very little like "vintage" RYL and, in fact, is almost listenable. Six longish disco/spacerock/no-wave instrumentals that fall somewhere between the Contortions, PIL circa Second Edition, a bad day at the dentist, and the Raunchy Young Lepers. Classic boombox fidelity, much abuse of Floyd Rose, digital delay, and slapbass, and an enthusiastic drum-machine make this another kickass Tape Mountain release.