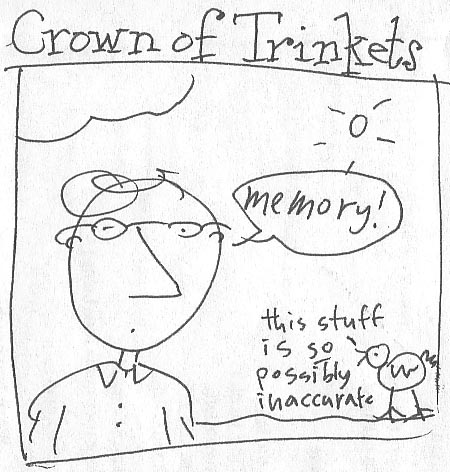 Current Crown of Trinkets
Archives
Back to Tape Mtn. HQ
Email me
Crown of Trinkets Archives (August-September 2002)
---
September 19, 2002
Two things: (1) Some fine fine mp3's up on the Deathbomb Arc news page from the Rose 4 Bohdan spring tour. "Vast and Sad" may also make an appearance on a potential live Celesteville CD-R, 2002: Vast and Sad, which will feature an even more epic version of that song as well as the one with me, Grace, and Sean.
(2) Some stuff I wrote on Labor Day Weekend on my Palm (yes, lots of Graffiti writing) at the ocean. Here, presented for your amusement, three-week-old news.
So I`m here on the coast gazing out at the blue, blue ocean-surprisingly blue sky-my dad just awakened from a nap, my mom reading a novel, Joanie doing a too-difficult Friday NYTimes crossword, and here i am, figuring out the vagaries of the Palm "Graffiti" system; not nearly so nice as my trusty TRS-80 for this sort of thing but considerably more novel.
Last night when we got here, we were immediately greeted with margaritas, and Joanie was kind of astonished; she would never drink with her family. But I'm glad to have (a) been born into this kind of family; (b) finally decided that the sauce isn't so evil after all. As if to echo my sentiments, my father offers us all beer, which I wanted! Perfect.
So on Friday we played a wonderful show @ the Red & Black-7 bands, all of whom I more or less love, and how! The Minor Thirds started off with their de facto theme song "Let's Not Get It On" but then switched tones very quickly; they played a toxic little number about biting one's own tongue and then segued into "wyoming", possibly their prettiest and grandest and most ambitious song-oh it was nice-and that was it. The Mouse That Roared played a looooooose but appealing set; it is always nice to see people who've been playing together for years, feeding off each other... Moonpony played a lovely first song on his Rhodes but his subsequent songs fell a little short-they were less swoony. But when he was swoony it was great. He started a precedent by playing the second half of his set outdoors... And then the infamous S. Broox came on. From the get-go he was on: standing on chairs; moving among the audience like a young J. Anderson; enrapt; a capella; the man does a fantastic solo set and this just added to his reputation.
Davis A John Henry Memorial had a lot to live up to. And he did; his set was passionate (as always) and tuneful as well. He had a CD entitled "5 songs I recorded this afternoon", and every artist should be so candid... My set was fiery-perhaps too fiery. It was punk-rock, though; that's for sure. Not sure if that's all good; I'd intended to play a slow, beautiful set, and then there I was screaming "Recessional"-but it was what it was, and it was powerful, well, sort of. Jack played a set of silly and fluffy pop songs with new bassist Casey, and any song that demands that the audience go "meow meow meow meow" can't be all bad. Of course, Joanie and Chris and Charlotte were meowing along with me.
Then we walked back to C&C's place, guitar strapped to my back, saw an ecstatic picture of all of us marvelling at cupcakes at the CD release party; oh it was cute. And then Charlotte disappeared and came back with the Palm IIIe...
Detail: we had discussed this after our down-to-the-wire Beulahland trivia night 2nd-place finish (lost to the better-staffed Portland-Rock-Royalty-Plus-John-Mulvey team) (and we were much happier with lollipops and trinkets than with beer) and then there it was! After midnight! And I annoyed poor Joanie with it for hours, tap, tap, beep, oh, would you look at this nifty feature-that girl is so patient and kind...
LABOR DAY Oh what a lovely morning here at the beach-coffee is brewing and waves are crashing and Scotch oat cakes are baking and I haven't shaved in ages. The fog is creeping down Neahkanie Mtn. My dad looks through binoculars at Jordan and Sarah (on the beach) and exclaims in best pirate voice: "Arrr! I've got the lovers in me spyglass!" Baking oat smell, fog farther down than when I last checked. I ate breakfast. Did you know that the Tillamook Indians would have 24-hour gambling sessions where it was acceptable to gamble away one's wife? And that during these (segregated male/female, just like Lutherans) gambling sessions, the children would be left to forage for themselves? The fog has traveled all the way down the mountain's face and is sailing over the town of Manzanita, visibly obscuring house after house and now I will look up.
It was raining-that typical NW coastal rain-and just to be perverse, my dad put on this "South Seas" record ("Pleasure-Programmed"), all ludicrous swoopy slide guitars and intense choral versions of "Aloha Oe", truly an astonishing moment to be surrounded by that among the drizzle.
This one is from 9/7/02:
My first proctoring job, and I'm realizing how old I am; the smell of unfamiliar high schools conjures up REM's "These Days" (images of old-time speech tournaments) but i realize: these kids wouldn't know it!
(After the test) Well, that wasn't so bad. The kids behaved well and some were even friendly. Would I rather be sleeping or garage saling? Yes! But getting paid is not so bad. Catlin Gabel is kind of pretty, although there's tons of construction and the construction that's been completed has not been done in the most ęsthetically pleasing manner. Still. I'm waiting for some mysterious figure to show up and hand me a key. I am famished-next time I will bring one of those "energy bars" that I bought at the Grocery Outlet, and which I like better than most of the expensive supermarket brands...
---
September 17, 2002
Precious utterances from my bizarre and loud-voiced neighbor; I caught it in the middle of the conversation, but it went something like this: "I'm not paying no fucking hundred-fifty bucks for no fucking plastic dolphin... yeah, they said lead crystal, well yeah, 'from the Lenox collection, known for its fine lead crystal...' yeah, fucking plastic!, well, okay, acrylic, that's fucking plastic... yeah, I had to pay $17 to ship this fucking plastic dolphin back to them, but they're good, I know they'll refund my money..." Wow! Her voice (I always forget her name...) echoes down Washington St. like nobody's business. Fucking plastic dolphin, plastic fucking dolphin. Priceless.
Big shindig at the Penguin Pit (aka the basement of Sad Penguin proprietors Chris and Charlotte; we brought hot ajvar, other people brought kickass salads; Richel brought this tooth-rottingly sweet marshmallow-and-pudding creation, thus furthering the idea that she runs on sugar alone. We got kind of drunk and sang versions of our high-school bands' worst songs. I played "Long-Time Lesbians", by those jolly scamps the Raunchy Young Lepers, plus "Plutonium Child", and Chris played Qualalocke's hit with the immortal line "And it doesn't matter to me/If you ain't a beauty queen/As long as you can be seen/IN PUBLIC!!!!". Pretty amazing and I was pretty clumsy the next day at my SAT-prep class. Speaking of which, those are going pretty well; a few missteps here and there but that's to be expected. I think I'm pretty good and my students don't seem to actively dislike me, at least, which is already better than I can say about my previous job!
Two orders for the Raunchy Young Lepers box set in the last week or so; the world is coming to an end. Speaking of bad high-school stuff, if you (the reader) want to contribute anything your high-school or junior-high band did to the forthcoming Tape Mtn. compilation Underage Luvin, go ahead and send it to us here. We are waiting!
---
September 8, 2002
What a great day! I started the day out with toast and jam and the first SAT class. And it was great! (well, the toast-and-jam, yes, and then also the SAT class, but the SAT class especially.) I started out a little stuttery, nervous, but then once I hit my stride, started memorizing students' names and getting a handle on their personalities--it was super-fun. I'm not sure if it was super-fun for the students, but I hope it was; some of my jokes hit home and it was great, and they learned stuff they didn't know. I get such a rush out of teaching--the same sort of rush I get out of performing, but teaching isn't quite as natural, and more's at stake, I think... So I came home and I was instantly in post-performance mode, all skittery and giddy and talk talk talky. It was a lot of fun.
And then just now Joanie came over and told me about this "Magnavox Odyssey" thing she saw at a garage-sale, with joysticks. Well, it was actually a Pong-ish unit, huge and yellow, the joysticks were actually paddles, and it came with no power adapter (but with the weird RF adapter)... anyway. I decided that I do not need to start collecting Pong machines, god, what a slippery slope it would be, because many of them are great from a design standpoint (this one being a prime example...) I ended up getting a tape recorder (that has a speed-control knob... ooh) and some tapes and some dry-erase markers. But the next sale was something else. I'd been there the previous day, got some corduroy pants (narrow-wale--like I like them!) and a thermal shirt. We went back today to see if there was anything J. would like. Well, yes: she found pajamas in an attractive cloud design, and they gave us plums from their tree. I had long eyed these plums! So I asked if we could pick a few, and they said yes, and we went to go pick some, and then we heard skid-crash! Yes, someone had rear-ended someone else--slowly, just a little bumper damage to the old BMW that got rear-ended. So what was the first thing the driver said when he got out of the BMW? "So is there a post-accident discount?" Classic! I wish I had the presence of mind to come up with gems like that!
---
September 6, 2002
Bronwyn played a show tonight at the Mississippi, a fantastic show by all accounts but it was kind of interesting emotionally. We opened for Sar-h D-ugher's new band Ch-rchez la F-mme, which, as you might have surmised from the hyphens, is going to receive some shit-talking on this page. They and their hipster cabal of friends were all there merrily getting along in their fabulous hipster outfits, but of course they didn't think to come into the actual performance space. I think that is pretty shitty; any time that I have been fortunate enough to not be an opening band, I have at least had the consideration to come and nod my head along with the other bands. Oh well. It was lame. Richel's teenage idols, Sl-ater-K-nn-y were there, and Richel was nervous, but she needn't have bothered; C-rrie poked her head in on a couple occasions but that was about it. Oh well. In case you were wondering, C.L.F. were pretty standard 60's-via-riot stuff. They played a totally non-revelatory cover of "Femme Fatale", some other songs that featured chord progressions I had heard before. I was tempted to honor Brian Miller's spirit by peeking my head in there between sets and saying "YOU ARE BORING!" but I wasn't feeling confrontational. Still, Brian's theory that telling someone that they are boring is the worst insult you can give them is fascinating.
Tomorrow I start my job; I celebrated today by finally mailing off all but two of the outstanding Tape Mountain orders. I felt good about that. I also played some more Rayman 2 on the Dreamcast, and it is very very engaging. Games like that, as silly as they are, have a vision, and they create a world, and I think that is a totally acceptable artistic vision. There's a lot to be said for creating one's own world, as opposed to being transported there by fabulous graphics (c.f. king time-wasters Pirates! or AutoDuel, for the Macintosh Classic and Apple // respectively) but not doing the visual work oneself, just taking it all in, is just fine.
---
September 5, 2002
I wrote a long, long journal entry on my new Palm IIIe while I was at the beach this weekend but I'm waiting to get my HotSync cable in the mail so I can put that up. Yes, I am a geek.
Big news! I am now employed, at least for a while: I'm teaching SAT prep courses for the Princeton Review. Many of you are now probably nodding your heads and thinking, "yup, that makes sense." And I can't blame you: I loved training, even though it was a hell of a lot of work and not a lot of sleep. I am very very excited about this, and I proctor my first test on Saturday and teach my first class on Sunday. More news as that progresses.
In case you haven't caught the three other references on this website, the Live At Tape Mtn. HQ CD-R is now available. Check that page out--there's six fantastic bands on it and you will love every minute, from the calm and sly Minmae set to the funny yet touching Minor Thirds set to the frantic Rose for Bohdan set. I love it!
---
August 20, 2002
This weekend was sure a hoot, especially the show on Saturday at Pacific Switchboard. A good account of the show is up at the Minor Thirds' site, and I'll let that speak for itself, although I'm not sure if the Celesteville set was "thorny". I think it was pretty pleasant myself; the room was echoey and wonderful and the crowd was enthusiastic, including (drum roll) my parents! My parents haven't witnessed a show of mine since high school--the infamous "People Are Morons" set at the Tigard High School talent show in 1990. Okay, they sat out in the minivan during my infamous set at Cook Park in Tigard, but that set kind of sucked anyway; I was out of my mind and my guitar kept cutting out (I still have that guitar, though it only has four tuning pegs now and it hums like crazy.) and I tried to enlist Generation Alarm's bassist into the Cruise Missiles Named Bob (yes, even in those days I was performing solo shows under a pseudonym). So anyway: the folks, when asked, said that they were not embarrassed. I think I hammed it up a little just for them. The rest of the sets were amazing, in particular the Atole set, which sounded like nothing else in this world and nobody else in this world. The Bronwyn set was okay, but for some reason the acoustics of the room didn't do much for the Bronwyn Sound--the vocals were hard to hear and the drums didn't really sound right. Oh well. We were spirited in any case.
Sunday: Joanie and I helped Chris and Charlotte (and Ryan) move into their wonderful new house in Ladd's Addition. They are right next to a little traffic island full of roses, most of which are currently in bloom, and their house is cozy and comfortable. We hoisted a lot of bedframes, bookcases, videotapes. It was fun and we were tired tired tired at the end of the day. Mid-move, we stopped at a garage sale, which happened to belong to some friends of Sam Red76 Gould, and they had a picked-over but nice selection of indie comics, including some No Hopes (whose intensity is apparent but I'm not sure if it's something I will reach for every day) and, most prizedly, a copy of Tandy Computer Whiz Kids: Alec and Shanna in The Computers That Said No To Drugs! Oh my goodness, you've never seen "RS-232 Program Pack" referred to with such zeal. Anyway: we finished up the day and settled down in the house to let all three new residents' cats duke it out for territory. Hiss, hiss, hiss. Initial reports found Ryan's kitten Kashka to be the hissiest, Chris's cat Dandy to be the most timid, and Charlotte's old-pro-at-moving cat Nina to be the most well-adjusted, but we'll see how this feline three-car pileup ends up.
Last night: I broke out the tea for the first time in ages and we had little cups of Jade Oolong from Upton Tea, fine fine stuff for watching Stop Making Sense, which provides new revelations both about the Talking Heads and about myself every time I see it. Jordan was reading his book on the loveseat across the living room and laughing out loud quite frequently, and Joanie and I were curled up on the couch watching a video; how perfectly domestic it all was! All we needed was some microwave popcorn and some Ben and Jerry's to make everything perfectly homebodyish.
---
August 14, 2002
So I finally did what I had been agonizing over for quite some time (one of the big reasons I played so much NBA2K [see entry below] was to take my mind off it) and quit Minmae. There was definitely no acrimony, and I think Sean knew what I wanted way before I did, which just goes to show how well Sean knows me. A good kid, that Sean Brooks. I just wasn't getting off on the drum thing, and the snare drum was making my left ear ring pretty consistently, even with earplugs, and I was definitely overextended. I didn't want to make promises I couldn't keep, and I felt like I was doing so. So now I will hopefully have more time to devote to the label, which will hopefully take less of my time now that I've discontinued the Is This It? special. Telling Sean about my decision was one of the hardest things I've done in ages. I was trembly, since I don't like to hurt those I love or end things that I am still engaged with, and I do love both Sean and Josh, the men I have hoisted Steinlagers with; I will miss that a lot. So here's to Minmae and their future success with a real drummer; I think that will really improve the Minmae sound, which is already pretty great.
This week there are two great shows: tonight at Berbati's, Minmae (S. Broox solo), the Mouse that Roared, and the Minor Thirds are playing, and then on Saturday at Pacific Switchboard (at SE 25th and Clinton) the Minor Thirds are having their CD release party, along with Bronwyn, Celesteville, and Atole. Both of them will be a hoot: email me for more info.
---
August 13, 2002
I was doing some web-browsing and I found out that Google has no pages that pertain to Ender's classic, classic cassette Touched By God. There should be. God, what a great album: wheezing and pulverizing and sensitive. And speaking of Nebraskans: I just bid farewell to Nebraskan Cris Stoll, who's taking off for Chicago in a couple days. He minidisked the forthcoming Live At Tape Mtn. HQ album (which is almost done), drank Schlitz Malt Liquor, was a tennis opponent, played Playstation on the floor of a room with no furniture. God bless that kid.
Speaking of videogames: I am pleased to report that the Utah Jazz won the NBA2K championship on my Sega Dreamcast; noted "created" center Joe Zeal (subject of a forthcoming Celesteville song) was lost to bit-rot halfway through the season, but seasoned veteran Olden Polynice picked up the slack and had a less distracting/gigantic ass. Here I want to use the word "steatopygous", because I have read and enjoyed The Superior Person's Book of Words. Boyhood hero Jeff Hornacek was not as much of a force as he was on the Iowa State Cyclones, but he hit all his free throws and was consistently sort of acceptable, and Karl Malone's bald spot was rendered beautifully by the fantastic video architecture of the Dreamcast. Hopefully this will cure my NBA2K fever forever.
Now to clean my room: I just found my flute underneath a pile of clothes and bags. The clutter will come back soon enough, but it will be nice to see the floor for a while.
---
August 12, 2002
A delightful and fun weekend, including some monster garage saling: I acquired a croquet set, a Game Boy, a CD player that actually works, and, best of all, the completely obscure and very cheesy Wurlitzer Music Learning Module, which sounds like someone stuffed a Colecovision inside an organ and put it on Coleco Organ Sound. I like it!
Saturday was the big garage-saling day, and then Joanie went off to Target with one of her co-workers; apparently the two of them spent something like five hours in a Target, which is impressive, especially in Joanie's case, since she'd been garage-saling all day before that! I went over to Chris and Charlotte's place--soon to be "former" place, since they're moving into a stunning Ladd's Addition house next weekend!--and practiced some Celesteville stuff with Chris, looked at the amazing Sad Penguin merch that they've concocted, etc. Went to a Spare Room poetry reading in the fantastic and reverberant Pacific Switchboard space, where Celesteville, Bronwyn, the Minor Thirds, and Atole will be playing this Saturday. It might be too reverberant for some purposes (such as poetry readings?) but it will be great for Bronwyn unplugged. I will have to pull out my slow and beautiful Celesteville songs. After that, we went to a party with Chris's friends, and Joanie and I sat on the loveseat, watching the action go by. Chris's goateed coworker played "hippy funk" (though he seemed hurt by the use of the term), a dog threw up, people that I half-recognized talked on cell-phones. Chris commandeered the acoustic guitar and played Mountain Goats songs ("Golden Boy", "The Best Ever Death Metal Band In Denton"), and, most excitingly, George Michael's "Faith", complete with ass-shaking, although Chris is probably two feet taller than George and Chris was wearing Dockers instead of tight blue jeans. Regardless...
Then on Sunday was the great "DIY/BYO BBQ" at the Kelly Haus. Jack (John Barrios) opened with his playful kitten-and-ball-of-string songs on electric guitar, which was pleasant. Then Chris and I came on, and, unbeknownst to Mr. Piuma, we opened with my old ode to the Raunchy Young Lepers, "Tualatinland". The entire audience was roamed amongst, and I basically lost my voice. You should have heard the Casio-disco version we did of "I Can't Hear The Birds Sing"! And "R.A. Montgomery" was choice. As soon as I finished, Adrian (Thanksgiving) stood on a chair and started singing in his startlingly deep, resonant voice; everyone was transfixed, including me. He said, "I'm going to play the following songs on the badminton court," and we followed. He sang one song on top of the shed, several on a heap of dirt, some in the lawn; he has long toes and his words are strung together fascinatingly. I will have to hear more of his stuff.
I went off to drop Charlotte off (she has finals this week), and I got my drums, my guitar, my amplifier, my Talking Heads muscle-tee (which I'd just acquired on Saturday! What a find!), and drove back to the Kelly Haus, dressed entirely in black, including my underwear; nevertheless, I was not the least bit threatening, probably due to the fact that I was wearing a Talking Heads muscle-tee and a pair of baggy black corduroy shorts. Not a badass, this kid, despite his claims to the contrary. Minmae played and it was inspired by the 40's that had been consumed, which is not so bad. I played drums with especial use of a little garage-sale cymbal of mine that sounds like a tiny gong. I'm sure it annoyed everyone. Then the Taken Girls played; Dan was dropping metal bars on his guitar, but he seemed in good spirits, and new TG drummer Eric was completely fantastic. He made more use of maracas than of the kit itself, which was nice; we locked into a droney Middle Eastern-ish groove and didn't look back. The Memphis guitar made its first public appearance and it sounded fantastic through Minmae Josh's amazing Fender amplifier. Wow.
When it was over, I was the most tired person in the world. Joanie and I came back, drowsily consumed some delicious green-beans, and it was as if I was in a garden in a dream in a yellow room.
---
August 8, 2002
Recently got some emails from old friend Adrienne, who sent me a picture of a t-shirt that I drew for her and that I had completely forgotten about. So silly! I had obviously been looking at a lot of Japanese t-shirts (e.g. my "Mr. Judo: Softness Can Overcome Hardness" t-shirt, a classic). Here is the picture: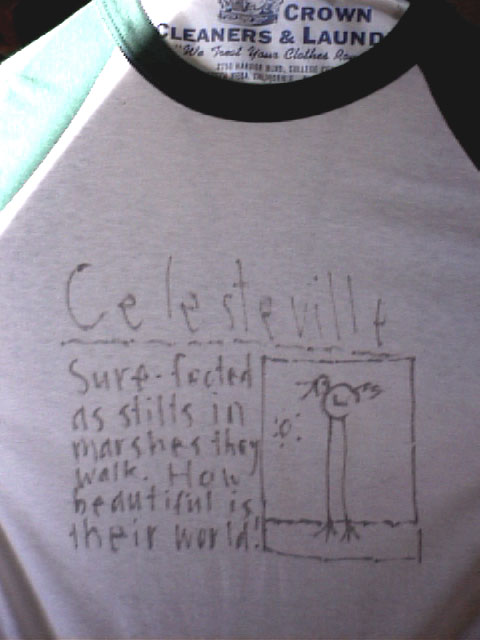 ---
August 7, 2002
Wow, you get a journal every day for three days running!
Jury duty ended without me being so much as called up to spout about my insanely leftwing political views, how I could never sit on a death-penalty jury or a drug-war jury, that sort of thing. I was kind of looking forward to it, but I must say: getting out of the room at 2:30ish was wonderful and not having to come back the next day was even better.
A lovely Minmae show last night; I borrowed Experimental Dental School's bass drum so I sounded even bigger than I would ordinarily sound in the inky-black Meow Meow. I hit the drums as hard as I could, which is getting to be pretty hard, and we sound like a real rock band, and I restrained myself from extreme verbal joke measures, although Joanie claimed that I was engaging in rockstar antics with my extreme drumming gestures, vast arcs of arms, etc. It was a lot of fun in any case.

Experimental Dental School were pretty great--wild wild circus music--and they really sounded like a Bay Area band, which is good; they were very much in the vein of Creepy Crawly Claw or their ilk. It was really a lot of fun, and they were silly on stage, and their guitarist and singer was conjuring up all sorts of amazing noise-polka sounds and apparently he is Kelly House denizen Jennifer's half-brother. Who knew? Then the John Henry Memorial Rotating Cast of Portland Lunatics came on and they were even better than before; Angelo and Glamorous Pat were replaced by youngsters Dan and Adrian (the latter from Thanksgiving), and those two writhed and grimaced all over, and Davos sang like he was clawing out of the grave, and Michael's bass clarinet conjured up images of Pere Ubu's fantastic live album 390 Degrees of Simulated Stereo, which, if you have a spare copy lying around, email me. Good stuff.
---
August 6, 2002
Jury duty day, not so wonderful; I had to get up at (which, of course, ended up being a showerless breakfastless 7:15 or so) and straggle in ovinely to the courthouse, making sure no pocketknives, knitting needles, etc. were in my possession. Cheesy videos and clearly many-times-told jokes about the length of the day and the relief felt by those not chosen for jury duty were broadcasted through low-quality PA speakers. The day was long and the day will be long. Fortunately, I came fairly prepared with this computer, a copy of Calvino's Invisible Cities, (here the Upper-Midlands-accented jury-room attendant comments on my fast typing on my not-quiet TRS-80 Model 100), last Sunday's crossword, which Joanie took a stab at before I came to it, a few squares filled in here and there (pretty much correctly), and, desperation-break-glass entertainment choice, a copy of the friendless-geek-lit classic City of Thieves by Ian Livingtone, part of the eternal Fighting Fantasy series. I have not yet had to break it out, but let's face it: it's probably easier to get immersed in that book than it is to get immersed in Invisible Cities, as luscious as Calvino's writing is... hey wait, she's calling names. Whew! I was not chosen.
This morning I took familiar Tri-Met bus 15 (Belmont) for one of the very few times since I lost the bus pass that came with my old crappy job. The sensation of sitting in a crowded bus at a time that preceded the time that I would have liked to be on that bus, tired-cold air coming in and out of my nostrils and those around me, whoa it was evocative. The view of downtown Portland rising in front of me as we crossed the crest of the Morrison Bridge, a view seen through the spaces between passengers, boy it was evocative and I started thinking about my old job, my stupid boss, my bitchy coworkers, and how stupid it was that I got fired, but then I thought: hey, what if I were still working there? God, what torture that would be, and I wouldn't have experienced this summer, which I think I can already say is:
the BEST SUMMER OF MY LIFE.
I'm 28 years old, soon to be 29! I am free of acne, tiresome troubles, unwise choices, of youth! I have had my lost years! I don't have to work because I get a check from the government every week! I am in love with a wonderful person! I am rocking in two great bands, bowling, hiking, doing crosswords, playing silly games on the Sega Dreamcast, garage-saling, eating produce, reading books, burning CD-R's for surprisingly active Tape Mountain, writing songs, good songs at that, spending time with the folks and their sweet new little dachshund, we played "get the ball Fred" the other day with his spiky orange football that bounced and squeaked down the familiar old hallway at 20398 SW 69th, Tualatin, OR, the hallway where my brother and I played hallway-football, where there used to be ceramic penguins, framed posters, Fred yipped and grrred and grabbed the ball, making the effort to keep it away from him but he couldn't hide from my 5'6"ness, the little guy probably isn't even half a foot tall, that's even less impressive in metric, god bless Fred and god bless blueblerries and god bless the writing of Italo Calvino and Ian Livingstone both and god bless the American way of jury trials and the sun is outside, incandescent sun warmth brought into fluorescent high-ceilinged (with acoustic panels above concealing what are doubtless higher ceilings--this is a graceful old building, built before acoustic tiles) jury waiting rooms; there is chard waiting in my refrigerator, and a rock concert waiting to happen after I eat the chard, and sweet crosswords and social interaction waiting for me after the rock concert, and sleep and hopefully a courthouse-free day tomorrow; oh, these are the best of times.
1:30 pm: I'm back from "lunch" (a.k.a. walking around to some of my more preferred downtown spots) and I realized how much things have changed since I was young. Back in high school there was nothing better than taking the 96 bus from Tualatin (or, if it was a weekend or if I got up after rush hour, the 38) and spending a day wandering around downtown, either in the mist (winter) or the sun (summer). I'd hit the record stores, the music stores, definitely Powell's and the library if I was feeling ambitious, and come back with an armful of merchandise and free publications (The Rocket, the late and lamented Snipehunt, etc.) But alas! those days are gone like so many brown hairs being replaced by their gray counterparts, and so be it, I guess; I've discovered that things are nicer and less commerce-driven on the other side of the Willamette. It was kind of glamorous to hang out on the west-side for a little while, but ultimately it is good not to spend money.
People around me are: (in the front) watching some Weakest-Linkish game show; reading People-ish magazines, looking up from paperbacks; fidgeting; talking on cell phones about the business they're obviously missing today; playing beepy little cell-phone games behind me; doing the Jumble; looking around; craning their necks up at the back of the room to see the TV screen (I'm amazed that they can actually hear it from this far back--I just hear speech sounds, and, of course, the commercials). I'm typing to keep myself from going mad. But the possibility exists that I may go mad nevertheless. I wish I had downloaded some silly clone-of-Frogger games for my TRS-80 today! I already blew through City of Thieves, damn my incredible memory for the details of ridiculous fantasy-themed gamebooks consumed during my youth and my questionable memory for when band rehearsals are these days. I do remember, however, that I'm supposed to show up at Sean's place tonight at 8 pm. Hooray for me!
If you've gotten this far through the rambling, you deserve something nice: email me with your address and I'll send you a copy of Bookish Hermit #2, before it even hits the proverbial newsstands. Of course, you are cordially invited to order some of the new Tape Mtn. merchandise as well, such as the Gang Wizard live disc, the Dewey Decimator disc, or if you are reading this after the fact: the Mike Landucci solo CD-R, or the Bronwyn live CD-R.
Finally: Celesteville is playing a rare live show this Sunday at the Kelly House (3944 SE Kelly St., Portland, OR). It will be outstanding and it will be free. You will love it!
Okay, that's enough; back to the crossword, I guess.
---
August 5, 2002
In Dan Cohoon's words (after I completely forgot about a Taken Girls rehearsal, oops): "You know, for an unemployed guy, you're pretty busy."
Last weekend's Bronwyn Update! We played a show in Astoria, just a completely beautiful city, in an absolutely beautiful venue: "Common Grounds" coffeehouse and the AVA Gallery. High ceilings, a radiantly attentive audience, perfect sound for our Chris Calvertless drumless performance. The bass echoed like a heartbeat, our footsteps sounded like wild horses in perfect unison with the landscape, and TJ and Nichole captured it on digital video. It was so nice! We got the minidisc, too, and it sounds fantastic and will probably come out on Tape Mountain at some point. To top things off, my wonderful mother let me borrow her wonderful car, her shiny and newish Volkswagen Passat--which was a miracle of internal combustion. Not as miraculous, perhaps, as her friend Mary's Toyota Prius--but still pretty smooth wheels for a nice drive to the coast.
Garage sale update! Last Friday, when Joanie was off at work, I went out catlike to the garage sales around the area, without her. And once again, two blocks from my house, I struck gold. The attentive Crown of Trinkets reader will recall that last summer, I found a fantastic Hilgen amplifier at a garage sale at 19th and Washington (one block away), and that, a couple months ago, I located a beautiful and amazing woman at 20th and Washington while I was hanging garage sale signs. So then on Friday, at 18th and Oak, I saw an attractive but cheap-looking Stratocaster copy lying on a table. On closer inspection, it turned out to be a "Memphis" brand, red, and kind of dirty. Masking-taped to its pickguard was a crudely written "$10.00" tag, and I figure, well, "Memphis" isn't exactly a name brand, but hey, it's good enough for John from Creepy Crawly Claw to make his bass-ar out of, it's probably good enough for me to squander $10 on. I take it up to the bearded hippie-ish guy who was running the sale. Is there anything wrong with it? Well, the pots are shot, it's cheap, but hey, for $10, you can't go wrong, he says. I agree, and buy it along with a couple amazing CD's of Indian music and a few Bob Dylan LP's (Highway 61 Revisited is pretty damn good). So I take it home and realize: boy, is it a heavy guitar! I play it and it sounds pretty good, and the pots are a little shot, but still usable. I play it and play it, and wow! It sounds great in the strummy stuff that I like. I play it more and realize: wow, it sounds good for solos, too. More playing: it stands up well to abuse! And then I A/B it against my other guitars and what do you know, I totally love the way it sounds. So what do you know? More love ensues, within a two-block radius of 18th and Washington! Here's a picture: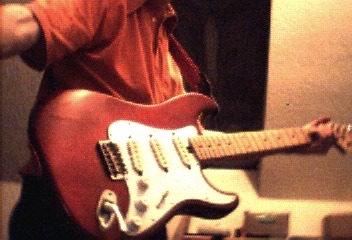 In other news, I'd been wanting to go to a farmers' market for some time, as had Joanie, as had my folks, and so the four of us went to the Portland Farmers' Market, which was packed full to the gills with fresh produce and people--many of them wearing beer-related shirts... I guess I can see the connection between microbrews and organic produce... although the Pabst Blue Ribbon shirt was a mystery. Anyway, we bought cucumbers, lettuce, tomatoes, chard, strawberries, squash, green beans--man, the list goes on and on. This was the first time that my very very perceptive folks met Joanie, and I don't think my mom thought ill of her, which is nice, because she has had a pretty good track record thus far of spotting girlfriends who were not right for me. But that's a zine in and of itself right there. My mother is brilliant. Vine-ripened tomatoes are brilliant. And we had a good time.
More lounging! More crosswords! More walking! Joanie and I watched Gumby: The Movie at some point and it was just as brilliant as ever! Minmae plays tomorrow at the Meow Meow! This morning we took pictures of Bronwyn under bridges and in snakey-poopy meadows! Blackberries and blueberries have been consumed! I played bass in church! Activity, activity, activity!
And now I am going to go take another walk!